Family Tree Research Packages by a Professional Genealogy Company
Family History Research Company Heir Line Ltd is run by Michael J. Rochford, an experienced, professional genealogist and author of several published history books.  We offer bespoke ancestry research from £90 and in-depth family tree packages from £375.
Heir Line Ltd, the professional family history company, provides family tree research for clients across the world.  We have a proven track record and a reputation for being at the very top of the genealogy industry.  Search for us on Google, or scroll to the bottom of this page, to read our 5-star reviews from clients who have loved using our services.  We'd love to hear from you so do get in touch today using the contact form on each page or email us mike@heir-line.co.uk
Be it local, national or international research, no family history project is too large or small for Michael J. Rochford, Heir Line's young and talented professional genealogist,  Michael works closely with Caroline Rochford, who is also an experienced family history researcher and author.  With seven published history books between them, and several articles contributed to genealogy magazines as well as the national press, there's certainly no better company to undertake your family history project.
Whatever our clients' requirements ... from family history packages or fantastic family tree gifts ... we can certainly help!
Family Tree Research Packages, by a Professional Genealogist
Making a Present of Your Past
To discover your family history in fascinating detail, why not order one of our four superb research packages, undertaken by a professional genealogist?  There's one to suit every requirement.  At the end of the project clients receive a fantastic family history report, packed full of detail and easy-to-read family trees, which bring their ancestors' stories to life.
There's a package for every budget and we can ship anywhere in the world.  (Postage and package charges apply.)
How We Work ...
When you order your family history package, we will aim to trace your direct ancestors back to the generation of your great-great-great grandparents.  We will let you know if there is scope to continue tracing your family tree further back in time, once the initial research is complete.  Any further work is optional, and is charged by the hour.
Michael Rochford, our professional genealogist, will provide a report containing detailed and comprehensive information about your direct ancestors.  This includes when and where they were born and baptised, married and buried; where they lived and what they did for a living.  We use a vast amount of primary sources so we can discover as much about your family history as possible.
We display our findings in a beautiful Family History folder, which is included in the cost of the package.  The folder can be upgraded to a hand-bound Storybook, complete with pull-out A3 family trees, for an additional £240.  Personalised copies of the genealogy reports are available to purchase for other family members.  These make ideal and unique family history gifts that last a lifetime.
Occasionally birth, marriage or death certificates are required in order for us to pursue certain lines in your family tree.  Copies of these will be provided along with your family history report at the end of the project.  There will also be the option to purchase additional historical documents, such as wills, ordnance survey maps and even property deeds.
Hourly Family Tree Research and Bespoke Family History Reports - by a Professional Genealogist
Clients who need assistance with very specific areas of their family history research can opt for our hourly service.  Perhaps there is an old family legend you would like to investigate to find out the truth behind the story.  Maybe you live in an old property and would like to know the history of your house.  Whether you're a hobbyist genealogist researching your own family tree or a professional family historian working for your own clients, Heir Line can help with any aspect of your work.
We have access to millions of genealogical records from across the globe and have the skills to interpret them. We also have an exceptional track record for successfully knocking down those irritating "brick walls" that so many people encounter as part of their family history research.
You can commission our family history research services in blocks of three, five or ten hours at a time, at £30 per hour.  At the end of each block we provide a thorough, narrative report outlining our findings, complete with family tree diagrams.

Once the Work is Complete...
 ... we keep all research on file so clients can commission further work to extend chosen lines.  Sometimes these can be traced back many more generations.
Sometimes clients commission blocks of hourly research to send us to places of interest we've discovered during our research.  Because we are close to the motorway network we can travel all over the Yorkshire region, and often beyond, to find and photograph headstones.  We have even found the houses, streets and buildings where clients' ancestors lived and worked.  Our office is close to the West Yorkshire Archive Service, as well as the Borthwick Institute at York University, and other Yorkshire record offices which we can visit to consult specific source material.
House Histories - Hire Heir Line to Trace the History of Your House
Does your old house have a story to tell?  Who were its former occupants?  When was it built and what was on the site previously?
Using a variety of research methods and resources, we can tell the story of the history of your house.  We consult old maps, enclosure awards, manorial court rolls, land tax and hearth tax documents, newspaper archives, deeds and ancient wills, along with many other documents.  We will find the references to your home wherever they may be and build up a picture of the families who used to grace its halls and grounds.
The professional genealogists at Heir Line have recently uncovered the history of Carlecotes Hall, a private residence near Sheffield.  In the revised edition of Pevsner's West Riding of Yorkshire, the hall is said to date to no earlier than the 17th century but our research has proved that it was built in the second quarter of the 1500s.  Using dendrochronology and radio carbon dating, alongside traditional documentary research, we were able to pin down the period in which it was built to just a few years and trace an unbroken list of its owners from the 1570s to present day.  Peter Brears, the well-known author and house historian, produced an architectural history of the house, which brought the hall to life room by room, century by century.
We can do the same for you.  Get in touch at mike@heir-line.co.uk or call 01924 314363.
Old Document Transcription Services
Reading old handwriting can be difficult.  Michael Rochford, our professional genealogist, has many years' experience of reading and transcribing old documents, and can therefore undertake work to transcribe:
Medieval / Tudor / Elizabethan wills
14th century poll tax records
16th century subsidy rolls
Georgian and Victorian wills and inventories
Early manorial records and court rolls
We charge £30 per hour for our old document transcription service.  Please feel free to contact us to discuss your history requirements.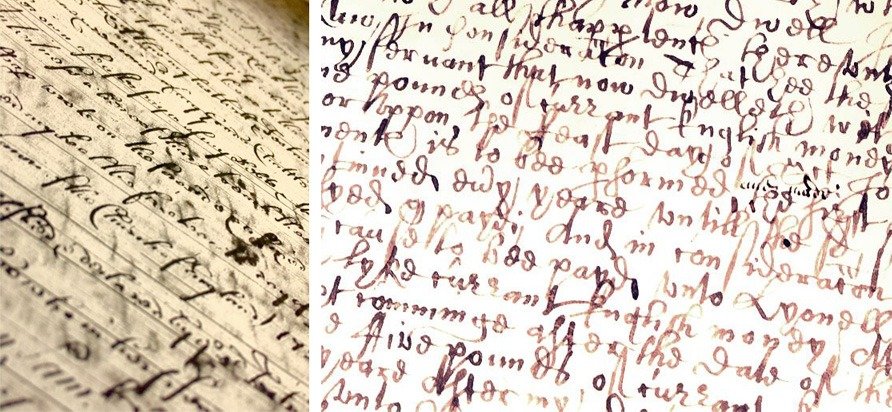 Here are some examples of the documents we transcribe.  Don't know what they say?  Don't worry - we do!  We look forward to hearing from you and helping with your research.