Personalised Family History Reports and Hand-Bound Storybooks, Complete with your Family Tree.
A Written Report of your Ancestry, Researched by a Professional Genealogist.
Once Heir Line has completed your project, the professional genealogy company, Heir Line, offers three fantastic ways to display your family tree:

1. Family History Reports - Free with any Research Package.
These are presented in beautiful family history springback folders with gold lettering on the front.  They come as part of any of our four family tree research packages at no extra cost.  
After picking a research package, your ancestry will be recorded in a highly detailed and informative report, containing a wealth of information.  Easy-to-read family tree charts are also included.  The folders come in a variety of colours and can contain many pages of family history research.  The folders can be opened up so that further research can be added at a later date.

Additional personalised copies of the family history report can be purchased for anybody referenced in your family tree, such as your parents, siblings or children.  At £75 each, they make unique family history gifts to pass down future generations.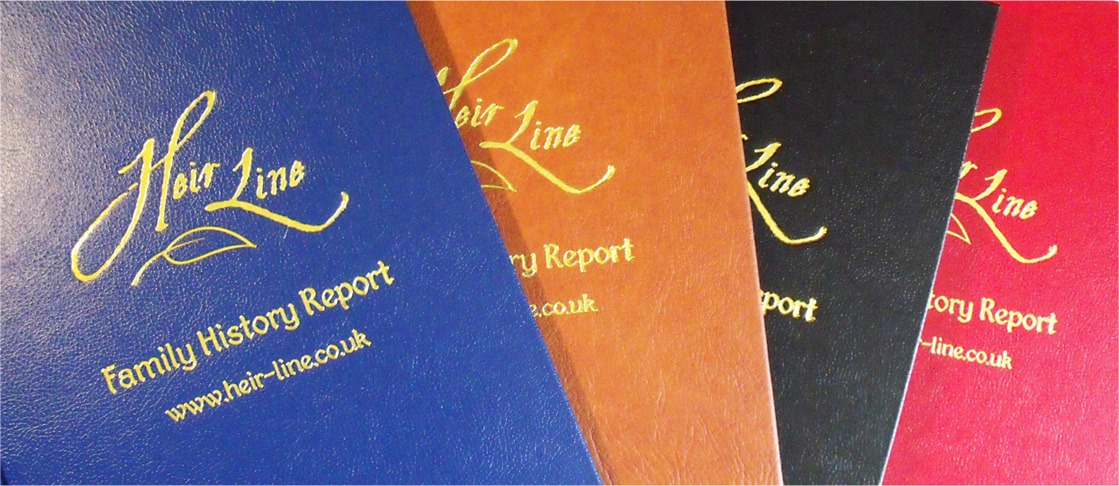 2. Unique Hand-Bound Family History Storybooks -

£195 per copy.*
The results of your chosen family history research package can be presented in a stunning hand-bound book, containing A3 pull-out family trees. Complete with your name embossed in gold on the front cover and spine, these heirloom books contain everything within the standard report, plus even more!

We normally produce family history Storybooks in two colours: "This Is Your Life" red or antique brown.  However, we also offer bespoke options.  Some of our previous clients, for example, have requested blue with silver lettering and yellow with sapphire blue wording.
A family history Storybook is an ideal way to document your family tree.  It can be read with all the family and enjoyed for generations to come. 
Unless you request otherwise, your family history research will be kept on file, should other members of your family like to order their own personalised copies.  These Storybooks make ideal gifts for loved ones who are passionate about genealogy, and provide a thrilling experience for all the family to share!
* The price of a Storybook is in addition to the cost of your chosen family history research package.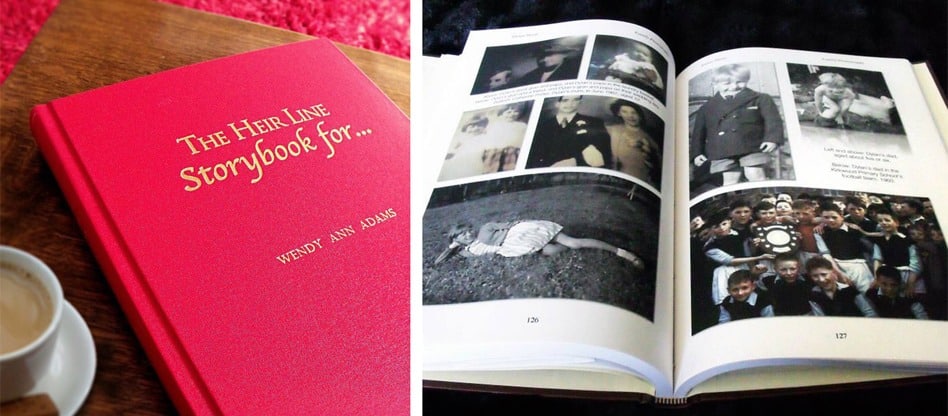 3.
Beautiful Family Trees, Ready to Frame - from £65.*
Our family trees can be printed on high quality paper, ready to frame and display in your home.  These beautiful prints, researched by a professional genealogist and designed by our in-house graphic designer, make unique gifts for those special occasions.  Or perhaps you'd simply like to treat yourself.  The names of your direct ancestors will be on display alongside the dates and places of births, marriages and deaths.  We can even include some additional information, such as the jobs that each ancestor did.

Simply pick one of the family history research packages we offer and let a professional genealogist do the rest!  
* The price of a ready-to-frame family tree is in addition to the cost of your chosen genealogy research package.  Alternatively, we may be able to produce a family tree from your own family history research.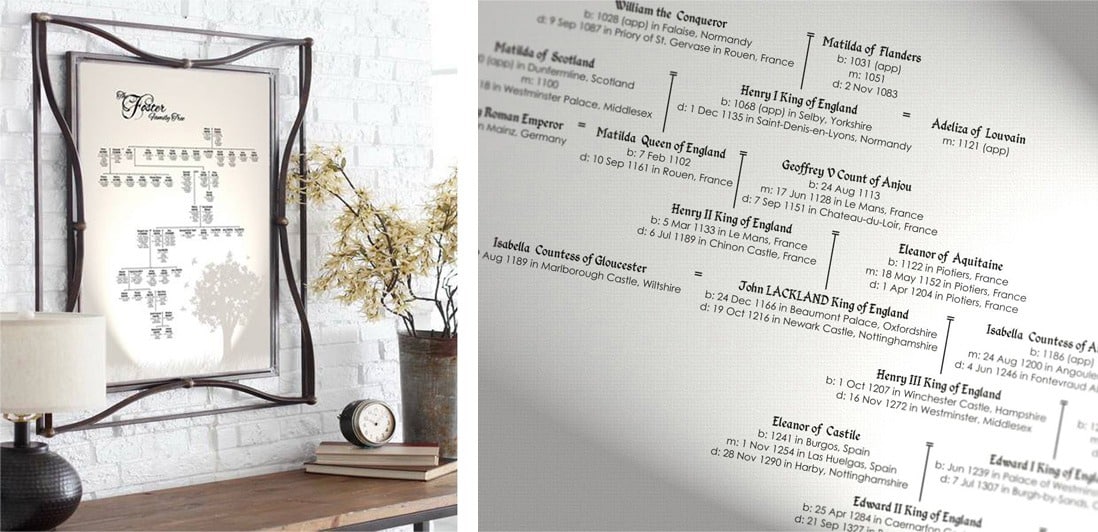 Personalised Family History Gifts for Ancestry Lovers.
Looking for a unique family tree gift that's perfect for Christmas, a birthday or wedding anniversary?

Heir Line Ltd is an internationally acclaimed professional genealogy company offering personalised family history gift certificates.  These explain to the recipient that their family tree is being researched by a professional genealogist.  The certificate will be sent by post along with a beautiful golden envelope, ready to present to the recipient on the day of their celebration.  Then, when they are ready to begin the project, they are invited to contact our professional genealogist.  We ask them to provide some brief details about their family tree to get us started.
We will send them updates as we go along, telling them some of the family history stories we have uncovered.  And once the family history project is finished, we can present their ancestry in a springback folder, a Storybook or a ready-to-frame family tree, as outlined above.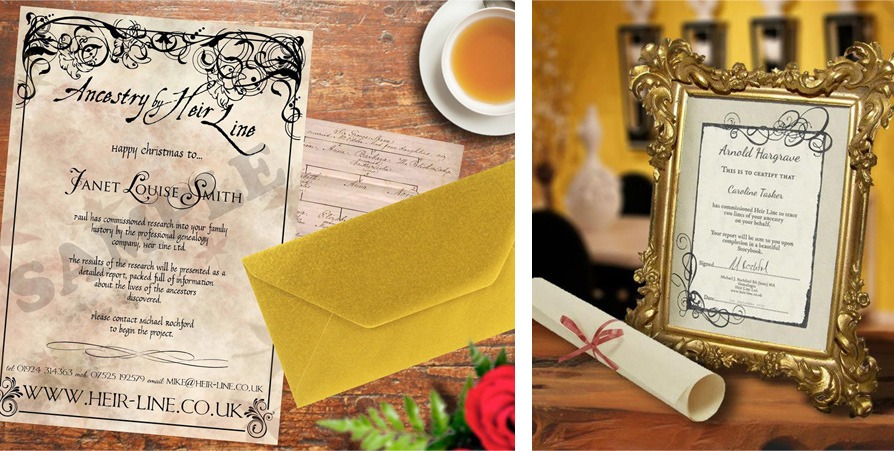 Old Photograph Restoration.
Most families will have an old box full of black & white and sepia family photographs that have been passed down through the generations.  If you are looking for something spectacular to do with them, then send them to us!  We can enhance and restore old photographs that have been slightly damaged, and provide you with a brand new image.  We even painstakingly transform old black and white or sepia photographs into colour, as if by magic!
This old photograph restoration work is carried out by Heir Line's designer, Caroline Rochford.  Caroline is an extremely creative person with a first class degree in Graphic Arts & Design, and a superb eye for detail.
You can post the original prints to us if you wish.  However, we highly recommend sending high quality scans instead because you don't want to run the risk of losing or damaging any irreplaceable photographs in the post.
Prices depend on your specific requirements, so please feel free to contact us and tell us about your project.