Published History Books by Heir Line's Professional Genealogists.
Non-fiction history titles inspired by the fascinating stories Michael and Caroline Rochford have unearthed during their professional family tree research.
By Michael J. Rochford.
Pen and Sword, 2016.
The escaping bear who'd had enough of being a Victorian showpiece; tragedy narrowly averted over the skies of Wakefield when a balloonist lost control in 1827; secret passages and hidden relics; and dark tales of determined village ghosts.  These are among many enchanting stories within the pages of Wakefield Then and Now: Extraordinary Tales from the Merrie City.
In this fascinating book about his home city, Michael J. Rochford has gathered dozens of accounts from Wakefield folklore, presented as a quirky historical tour.  Images from times long forgotten in the form of early photographs, topographical drawings and romanticised paintings bring the stories to life before your eyes, as modern photographs contrast how things were with how the proud city appears today.
So, take a step into the past and journey through Wakefield.  Thus discover the legend of Robert Hood and his wife Matilda; the town's beloved Cliff Tree; the first public railway; boggarts; haunted mansions and much more…
Book Reviews for
Wakefield Then & Now:
"Escaped bears, out-of-control hot air balloons and tales of secret passages - this book has it all. Rochford's enthusiasm for his home city is evident in this book which combines folklore and lively stories with fascinating historical detail. Wakefield Then & Now paints an intriguing picture of changing cityscape that you'll want to explore too."
- Who Do You Think You Are? Magazine, November 2016.
"Terrific local colour and interest for people from the area. Brilliant."
- Books Monthly magazine, November 2016.
900 Years of its History and People.
By Michael J. Rochford.
Pen and Sword, 2018.
In the twelfth century, St. Oswald's Priory at Nostell, near Pontefract, was home to canons of the order of St Augustine.  When it was dissolved during the reign of Henry VIII it was one of the wealthiest priories in the country.
In secular times, a grand house on the site was home to the Gargrave family, whose rapid rise had seen Sir Thomas Gargrave attain the offices of Speaker in the House of Commons and High Sheriff of Yorkshire during the days of Queen Elizabeth I. But within a couple of generations the family was ruined. Sir Thomas's grandson and namesake, into whose hands Nostell had come, was executed in 1595 for committing murder by poisoning, a deed shrouded in mystery and misinformation for centuries until now.
Then in 1654, Nostell became the property of the Winn family.  Having shown him great support during the Civil Wars, Charles II made the family baronets.
The following century, Sir Rowland Winn, 4th Baronet of Nostell, began work on a brand new, magnificent Palladian house, known today as Nostell Priory, in honour of the medieval canons who had once worshipped on the site. His descendants would cede the title, but in 1885, another Rowland Winn of Nostell, who was Conservative MP for North Lincolnshire, was made Baron St Oswald following his party's election success.
Featuring stories about the formidable Swiss wife of the 5th Baronet, whose daughter ran away with the local baker, grand political rallies, secret marriages, and even murder, Tales From the Big House: Nostell Priory offers the reader an exciting tour-de-force through some of the history of the site, and the owners and their servants who made this great house their home.
Georgian Recipes and Remedies: A Country Lady's Household Handbook.
By Michael J. Rochford.
Illustrated by TV food historian Peter Brears and author Caroline Rochford.
Pen and Sword, 2020 (TBC).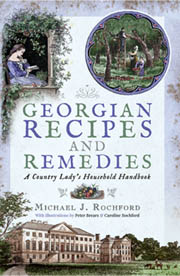 Discover the recipes for Mrs Rooke's Very Good Plum Cake and Lady Harbord's Marigold Cheese. Learn how to preserve gooseberries 'as green as they grow' and make Sir Theodore Colladon's Peach Flower Syrup. Feast on Lady St Quintin's Dutch Pudding and Mrs Eall's Candied Cowslips.
Then wash it all down with Lady Strickland's Strong Mead or some Right Red Dutch Currant Wine.
These are just some of the delightful Georgian recipes found in the receipt books of Sabine Winn, the eighteenth-century Swiss-born wife of Sir Rowland Winn, 5th Baronet Nostell of the impressive Palladian mansion, Nostell Priory in Yorkshire. Using centuries-old cookbooks, newspaper clippings, old family recipes and contributions from noble friends, Lady Winn created a wonderfully eclectic collection of mouth-watering dishes that are presented in this new volume for modern readers to enjoy.
Mistrustful of English doctors, Sabine's receipt books also contain scores of remedies for a whole series of complaints, such as: The Best Thing in the World for Languishing Spirits or Fatigue after a Journey; Mrs Aylott's Excellent Remedy for Colic; Aunt Barrington's Cure for Pleurisy; An Approved Medicine to Drive the Scurvy or any other Ill Humour out of a Man's Body; and A Diet Drink to Cure all Manner of Hurts and Wounds.
By Caroline Rochford.
Amberley, 2014.
Who invented the flying machine?  Was the Titanic really the first 'unsinkable' ship?  How would one use a phonoscope?
Using old Victorian documents, Caroline Rochford takes the reader on a guided tour of hundreds of fascinating 19th century inventions from across the globe, some strange and some remarkably familiar.  Think solar power is a modern concept?  Think again!  Today everyone has a camera, but imagine the excitement of taking a snap of a giraffe hotel!  This is a surprising journey, taking the reader on a trip from the clouds to the bottom of the ocean, with stops everywhere in between.
By Caroline Rochford.
Amberley, 2015.
Have you ever heard of a four-footed bird? Can you really teach a dog to read? Where would you find a kangaroo crossed with a lion?
In this brilliant and bizarre follow up to Great Victorian Inventions, Caroline Rochford reveals the wondrous experiments and bizarre theories of the great minds of science, engineering and natural history of the Victorian age.
Some discoveries are authentic, some simply misguided assumptions giving rise to strange beliefs. This book exposes the strange belief that Martians were constructing waterways on Mars and that the sun was really blue. It enters the world of botany with the discovery of a plant that had the ability to uproot itself and 'travel' across the landscape, along with an ornamental tree that 'ate' iron nails. Within these pages you can relive the moment when a German medical student accidentally splashed a liquid chemical in to his face and found it turned his eye numb, thus discovering local anaesthetic, and learn how green Victorians tackled the threat to fossil fuels by converting straw into energy.
Come on a remarkable journey into the past and see for yourself the extraordinary discoveries that promised to change the world forever.
A Boy Soldier's Adventures from the Streets of 1920s Dublin to Buckingham Palace, WWII and the Egyptian Revolution.
By Caroline Rochford.
Pen and Sword, 2016.
When he was just eight years old, Paddy Rochford enrolled at Dublin's Royal Hibernian Military School.  He was taught how to be a soldier with the British Army, like his father.  Because of the Irish civil war, Paddy and his fellow pupils were evacuated in 1922.  Thus Paddy came to England.
Across the sea, Paddy joined the Third Battalion of the Coldstream Guards as a drummer boy, with postings to Windsor Castle, Buckingham Palace, the Bank of England and the Tower of London, where he guarded the royal family and Britain's treasures.
In the 1930s, as thousands of Jewish families fled Nazi Germany, Paddy was sent to Jerusalem, charged with keeping the peace between the local Arabs and the Jewish immigrants.
During the Second World War, he was part of the Western Desert Campaign in Egypt, defending British territories. Following his wartime adventures, the young sergeant went on to train the Egyptian Army, where a bond of friendship grew between him and the future president, Colonel Nasser. Learning Nasser's plans to oust the British from Egypt, Paddy tried in vain to warn his superiors prior to the bloody revolution of 1952, which signalled the end of British supremacy in the Middle East.
Paddy retired from the army soon afterwards, moving his young family to Yorkshire, where he began writing these, his enthralling memoirs about a young boy who spent a lifetime growing into his boots.
A Treasury of Voices from our Maritime Past.
By Caroline Rochford.
Pen and Sword, 2016.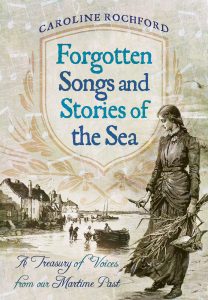 Stirring tales of heroism at sea have been engrained in the annals of maritime history since time immemorial. Christopher Columbus' discovery of the New World, Queen Elizabeth I's defeat of the Spanish Armada, and Horatio Nelson's victory at Trafalgar are just some of Britain's most memorable naval triumphs.
But what about the lesser-known tales from our seafaring past? The Victorian who invented a swimming machine in order to cross the English Channel.  The capture of a 'real-life' mermaid.  The lost pirate treasure of Alborán.  The ghost of a murdered sailor who still haunts the streets of Portsmouth.  The daring explorers who vanished into the blue yonder, leaving behind nothing but a cryptic message in a champagne bottle.
These are just some of our quirky naval stories that have been chronicled in verse and archived in newspaper clippings, and then forgotten with the passage of time. Historian and genealogist, Caroline Rochford, has thus packed 150 traditional songs and stories into this book, which offers an exciting, entertaining and eye-opening glimpse into our long lost maritime past.